Treatments and Specials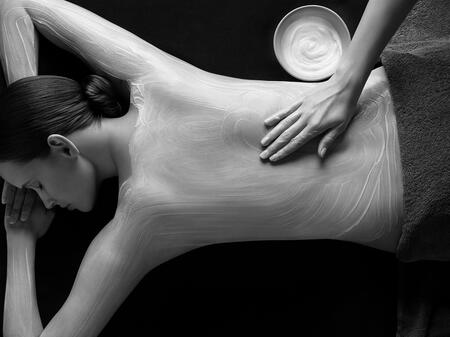 Geranium House offers Day Spa treatments and skin care for women. As you enter Geranium House you become the focus of attention, unconditional care and results driven therapy. With qualified and experienced therapists we will provide individuals with advanced skin care in private and professional surroundings.
SPECIALS - CHRISTMAS
Summertime Skin
Just like nature, our skin changes with the rhythms of the seasons. Inspired by the environment, this seasonal facial includes a cocktail of active ingredients & a sublime shoulder, neck & scalp massage component.
Christmas Special $ 125
The Oxygen Facial & Eye Contour Treatment
The Intraceuticals Oxygen Facial achieves instant results. The oxygen under light pressure aids delivery of hyaluronic serum into the skin at the same time as cooling and calming the skin. The treatment instantly hydrates the skin and results in increased firmness, reducing the appearance of fine lines and wrinkles. Includes a complimentary hydrating eye treatment & take home gift pack.
Allow 1 hour, $150, save $70
The Sensory Escape
Soothe the senses and the skin with an Aromatherapy massage & a Skin Balance Facial suited to your individual needs.
Allow 2 hours, $245
The Relax Package
An enjoyable half day package including a De-stress Mind Massage, High Performance Facial with Max 7 Light Therapy & a Luxury Spa Pedicure.
Allow 3 hours, $395 save $75
The Great Escape for Couples
Back by popular demand! A spa indulgence in a private couples room, with its own steam room.
The Great Escape for couples includes a relaxation massage followed by a session in a private steam room where products are provided for a body exfoliation & remineralising mud treatment. This is the perfect package for those with muscle fatigue and in need of some time out to relax and de-stress. and is completed with a glass of French Champagne & fruit platter in our spa or garden lounge.
Allow 2 hours, $495.
The Ultimate Indulgence
For the love of your life or that someone special who deserves a luxurious day out!
The Indulgence package includes a choice of a Hydrotherapy treatment, an Aromatherapy Massage, a High Performance Facial with a Sothy's Eye contour treatment, including Max 7 Light Therapy, & a Luxury Spa Pedicure. The 5 hour package also incorporates a gourmet Poachers Pantry regional platter for lunch & a glass of French Champagne.
Allow 5 hours $625, save $95
Product Specials
Add a splash of colour with 10% off all Sothy's hydrating lipsticks.
Email or call for details. While stocks last.
Specials must be mentioned at the time of booking.
Treatments
Strictly appointment only.
Specials must be mentioned at the time of booking.