Clinical Skin Care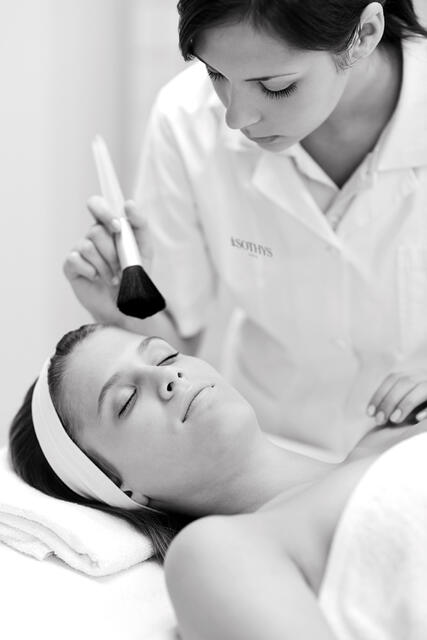 Clinical skin care offers a range of para medical skin treatments that may effect both the structure and function of the skin. A range of options are available including Allumera, Dermafrac, Peels & Light Therapy.
The type chosen & length of treatment plan can be agreed with your therapist once your concerns are discussed & skin care program formulated.
EPIDERMAL LEVELLING
Epidemal levelling is a safe & effective treatment that will improve the texture & tone of the skin, reduce vellus hair & improve absorption of both treatment and at home use products.
The results are amazing. Glowing skin that looks refreshed & renewed!
A fantastic pick-me-up & great for special occasions.
The treatment includes a epidermal levelling, mask & soothing light therapy.
Allow 1 hour $145
DERMAFRAC ; Collagen Induction Therapy
Achieving beautiful skin has never been easier, faster, more comfortable or more effective.
DERMAFRAC is safe and effective for many skin types and has been shown to improve the appearance of conditions such as;
Skin dehydration
Superficial fine lines and wrinkles
Pigmented areas, sun spots and uneven skin tone.
Stretch Marks
Scars
Your treatment will be individualized by the selection of a Dermafrac serum to target your specific condition;
Rejuvenate; a super cocktail of peptides to assist in skin rejuvenation.
Clarify; Lactic & Salicylic acids help cleanse congested, oily pores for more vibrant, clearer skin.
Hydrate; Hyaluronic acid triggers intense hydration.
Lighten; Kojic acid is a natural and effective lightening agent shown to even out pigment.
HOW DOES IT WORK?
The precision-controlled Dermafrac handpiece uses vacuum to pull the skin into contact with hundreds of micro-needles. The micro-needles create pathways for the infusion of targeted serums by penetrating the epidermis above capillaries and nerve endings, ensuring less pain. Designed to improve the overall appearance of your skin, the procedure results in optimal absorption of the serum and stimulates a positive natural response in the skin.
IS THERE DOWNTIME?
No! Dermafrac allows you to return to your normal activities immediately following the procedure. If you so desire, you may reapply your makeup immediately after the procedure. It is common to experience some pink or slightly red areas, which should fade quickly.
WILL IT HURT?
Clients tell us that Dermafrac feels wonderful. The precise engineering of the handpiece prevents any bleeding or pain and instead provides a pleasant client experience with no downtime. Dermafrac is an excellent alternative to fractional laser treatments that can be expensive and more complicated.
Personally I have been a subject for training purposes as well as performed Dermafrac on my own skin. With fair skin due to my Scottish heritage, I still found the Dermafrac comfortable on both occasions and the skin hydration and clarity was much improved in the days that followed.
Dermafrac with Rejuvenating Light Therapy; $255, save $50
Dermafrac with Soothing Peptide Mask and Light Therapy; $295, save $75
HEALITE 11 LIGHT THERAPY
FASTER HEALING, PAIN MANAGEMENT & MORE.
Low level light therapy (LLLT), with Healite 11 is the therapeutic use of light emitting diode energy to enhance your body's natural cellular recovery, improving healing times, relieving pain, controlling active acne, promoting skin rejuvenation and more. The pain free and non invasive treatment delivers concentrated energy deep into your tissue affecting your body at a cellular level.
Your aesthetician can use Healite 11 as a stand alone treatment or as an adjunctive enhancement of recovery with nearly as procedure.
LLT is
Painless
Non invasive
Risk free
Safe & effective for all skin types.
With two different wavelengths on offer, there is one right for your treatment needs.
Blue light, 415nm is used to control active acne.
830nm with 590nm sequencing is used for wound healing, skin rejuvenation, pain relief, muscle & joint pain, arthritus & more.
The dep penetrating LED light energy is soothing, targeting the skin cells to boost their natrual functions. The photo-activated cells enhance the dermal blood flow, induce faster healing, decrease pain, reduce acne and more.
Healite 11. $50 - $90. 30 min, depending on treatment.
Healite 11 Therapy with Para medical peel, add $50 to peel cost.
Healite 11 Therapy & Cosmedix or Dermaquest Medi Facial $165. 00, allow 50 minutes
DERMAQUEST & COSMEDIX PEELS
"Peels" include a wide range of exfoliating procedures that produce a peeling effect on the skin. The ultimate goal of any peel is the removal of the skins outer layer of primarily dead cells to create the healthy layer beneath. When performed properly, this procedure can effectively diminish the appearance of wrinkles, age spots, blemishes and more with little to no trauma to healthy cells.
Using natural, chirally correct ingredients-ingredients filtered to contain only the purest, skin-safe molecules, peels encourage gentle, effective renewal. With Cosmedix peels, there is no true peeling, but a mild sloughing of the skin. This process is known as metabolic peeling and achieves results without the irritation and recovery time of a true chemical peel.
Today's Peels use natural, chirally correct forms of Alpha Hydroxy Acids (AHA's) and Beta Hydroxy Acids (BHA's), to exfoliate away dead skin calls and promote the appearance of healthy skin.
Lactic Acid Resurfacer
Who this is for? For clients with sensitive, sensitized, red-reactive or easily irritated skin.
This treatment will rejuvenate the skin while offering gentle exfoliation. The treatment aims to relax the skin, minimise the appearance of redness, fine lines & wrinkles and helps to improve texture & hydration.
Allow 40 minutes, $125
Blueberry Smoothie
Designed to smooth an uneven and damaged epidermis. Blueberry Smoothie is part lactic acid exfoliant, part manual scrub. This treatment exfoliates the skin to clear away the look of imperfections and reveal a youthful glow without irritation.
Allow 30 minutes $105 or 60 minutes including a hydrating mask & rejuvenating light therapy treatment. $155 (save $50).
Benefit Peel
This Peel is designed to nourish and gently stimulate the skin layers. The Benefit treatment is packed with chirally correct Vitamin C and Encapsulated Retinol. This treatment brightens and renews whilst neutralizing irritation to help restore a youthful appearance, an anti-ageing must that is suitable for sensitive skin. Preparation required.
Allow 40 minutes $165 with Light Therapy